One of the things that brings me great joy is that some of my favourite artists are also some of my closest friends. And I'm incredibly pleased to announce that I've recently been part of a truly wonderful new work called INTER, made in collaboration with Liesel Zink (an amazing choreographer); Mike Willmett (an incredible musician, who I previously worked with in Poetry is Dead); and Erica Field (a phenomenal actor, and, although it's not directly relevant, one of the groom's party at my wedding in a few weeks' time).
In addition to working with these wonderful humans, I've also been introduced to the luminary talents of the dancers Michael Smith, Amelia Stokes, and Lauren Carr, as well as Jason Glenwright's superb lighting design.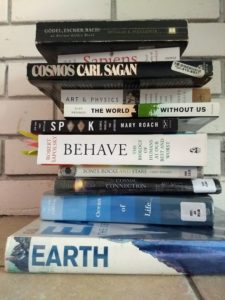 Writing can be a very solitary activity, so I'm very grateful and excited to be part of such a multi-faceted team. I've always said that Art and Science should be lovers, we should see them sharing the stage more often. I believe that the artistic, eloquent expression of scientific discovery combines the two highest accomplishments of human civilisation. I read a stack of obscure and fascinating scientific research to compose the text for this show, and while I'm immensely proud of what I came up with, I'm far more excited by the work as a whole.
The show will run from August 21-26th at Flowstate, South Bank. Tickets are 100% Freebird.