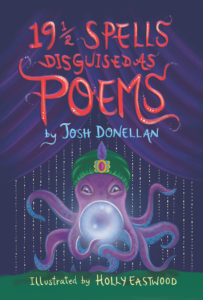 The first thing you should know about this book is that it's DEFINITELY NOT a collection of actual magic spells because magic isn't real, obviously. Disguising spells as a collection of poems is the kind of wickedly brilliant thing that only an absolute supervillain would do, and this poet is not any kind of supervillain. He's an actual poet who's won awards and everything and certainly wouldn't disguise a series of spells as a collection of poems about zombies, monsters, and rapping grandmas. What a ridiculous suggestion!

Killing Adonis is now available worldwide in paperback and hardcover! Grab it from Amazon, Poisoned Pen Press or wherever else you buy your books. Unless you buy your books from Esther's Esoteric Erotica Emporium, because they don't stock it for some reason.

STENDHAL SYNDROME: Feelings of increased heart rate, dizziness, disorientation, amnesia, hallucinations etc. in response to immense beauty present in either artistic works or the natural world.
A collection of poems, short stories, lists and rants by J. M. Donellan, author of Killing Adonis, 2015 Australian Poetry Slam national finalist, and one half of electronic/spoken word duo Poetry is Dead.