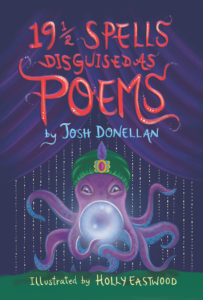 After years of performing at schools and helping kids wrote poems, I figured it was about time I brought out a book of poems (spells) for kids. It is very important to note that this is DEFINITELY, positively not a book of spells, because magic isn't real, obviously. This is a book of poems (spells) about very important things like zombies and rapping grandmas and cephalopods.

It's out now via Odyssey Books, and as always if you buy it direct through my website here I can sign it and write an inscription (spell) or whatever you like.

Holly Eastwood has provided some excellent illustrations and I feel very fortunate to have worked with her.